ABOUT CHRISTOPHER'S CARIBBEAN CATERERS
Christopher's Caribbean Caterers is owned and operated by couple Christopher and Karen Stephenson. We are experts in christening catering, and a lot more. The business was developed to offer scrumptious food, outstanding service, and unequalled professionalism and trust. Every client and event is dealt with uniquely. We are passionate about what we do.
Christopher Stephenson is the head chef and co-owner. He specialises in crafting tasty menu plans and also supplying unmatched customer solutions. Karen Stephenson is the other half of the successful group. You will see her operating events efficiently as head manager, and keeping visitors pleased with her courteous personality.
We are experts in a wide range of occasions, such as company catering, wedding celebrations, outdoor get-togethers, parties, christening catering, and far more.
We prioritise professionalism and reliability, friendly service, preparation, communication, and delicious food. All our consumers are treated with respect. Choose Christopher's Caribbean Caterers to ensure that your next event is a terrific success. You can call us to get a cost-free quote or to go over bespoke meal bundles. Or, see our Facebook and Instagram pages to learn more.
MILESTONE EVENTS: CHRISTENING CATERING
We specialise at celebrating milestones, and one of our favourites is christening catering. It is terrific to take the time to acknowledge special events in our lives, and we know that one of the crucial components is terrific food. It is our goal to let you unwind on your special day to make sure that you can hang out concentrated on friends and family, not stressing over food.
A christening is such a special part of life, and it is a lovely time to spend together with family. We can think of no better way to bond and make new memories than by connecting over delicious food.
We are fantastic at adjusting to the design of the occasion you are organising. Birthday event? We have superb BBQ plans that may be perfect for you. Retirement? Possibly something a bit more high end would be ideal. You can also develop your very own bespoke menu, so whatever you require, you will have it.
Our christening catering can also be adapted for wedding anniversaries, birthday party celebrations, retirement parties, and more. In between our huge option of bundles and bespoke options, we make certain to have a fitting choice that will suit your precise demands.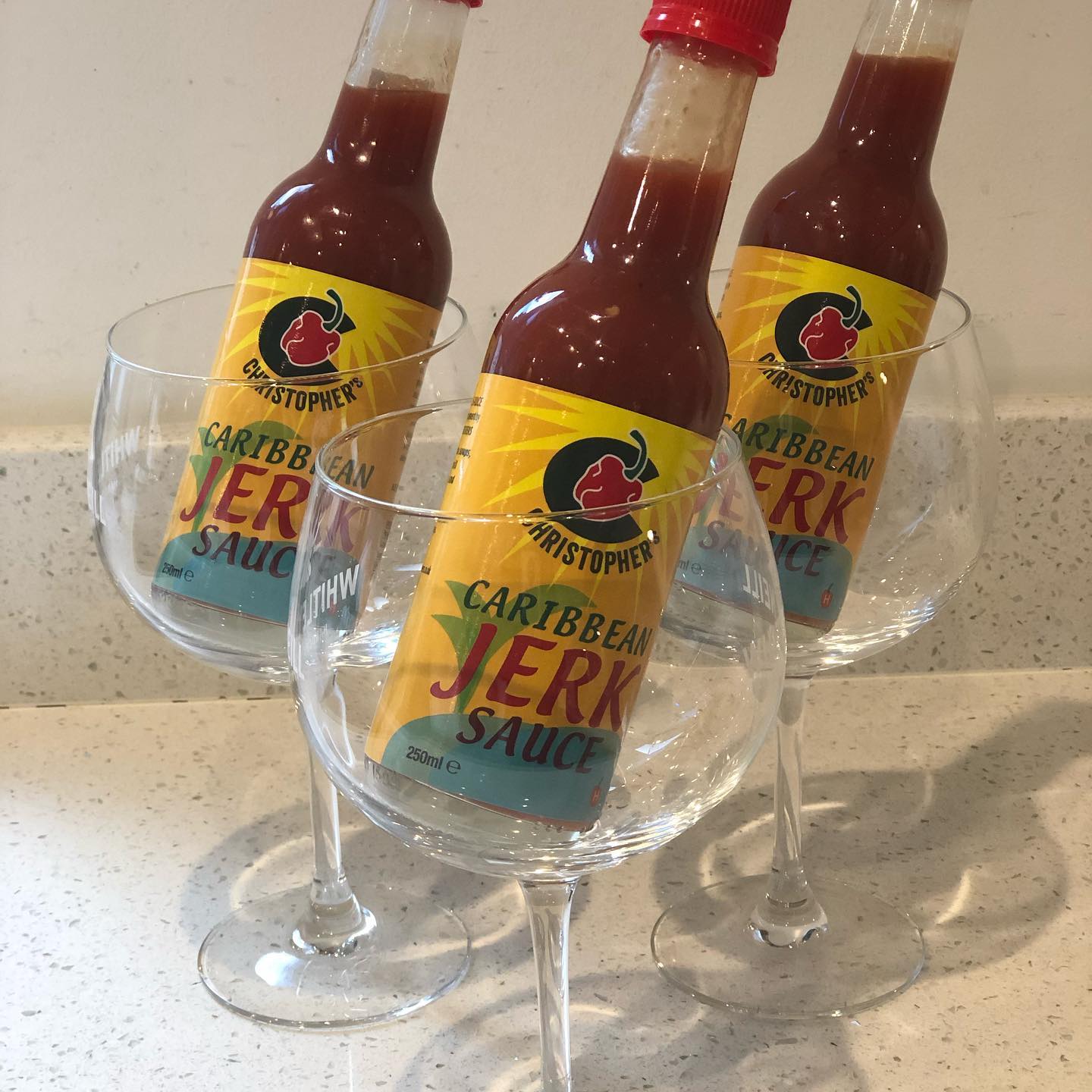 CHRISTENING CATERING FROM CHRISTOPHER'S CARIBBEAN CATERERS
For christening catering that will stun your taste buds, select Christopher's Caribbean Caterers. We are the very best choice if you are searching for a christening catering group that will certainly leave all your visitors with lovely memories. Every day, our head cook Christopher goes above and beyond to make certain that every customer is completely satisfied. He is renowned for his delicious, home-style dishes, and also for his great client service. If you are searching for Jamaican food, BBQ, typical dishes, or christening catering, you will find it all at Christopher's Caribbean Caterers.
We recognise that there are a lot of other christening catering businesses to choose from; however, none are as pleasant or efficient as we are. We can assure you that you will be entirely pleased with our outcomes. Our team can adapt to any kind of occasion. We easily adjust from birthdays to weddings, to company occasions, to funeral services as well as wakes. We comprehend the importance of these events, and we will not fail you.
You will certainly see that we are passionate regarding every event we do. Our staff always gives 110% effort to make certain that your celebration is a complete success. It is truly terrific to kick back and let us look after the details. We listened to client responses and developed techniques that cover a wide range of demands. We provide meals that vary in price and scope. Our staff always get here on schedule, dressed to excite.
For any kind of queries, we encourage you to contact our friendly group today. Call if you want to discuss nutritional restrictions or detailed bundles. Let our christening catering save the day. All your guests will have a great time with full, happy bellies and food to bond over. Enable us to streamline one facet: the food. Christopher's Caribbean Caterers are the ideal selection for christening catering and much more. We love to adjust to your style and also the vision for your occasion.
Remember, our christening catering options are bespoke. Every recipe can be handmade to fit your demands. Or, if you wish to leave it to us, we have lots of selections on our food selection to choose from. We will certainly get straight to work as soon as you have picked a location and a date. Our imaginative team will adjust to your particular directions, using their creativities to bring your suggestions to life. At Christopher's Caribbean Caterers, we provide an entire host of christening catering selections. Keep scrolling to read more! Or, see our Facebook web page to learn more about us.
CARIBBEAN CATERING FOR WEDDINGS
Are you planning a wedding celebration and looking for the best food option feasible? Our christening catering team can make your special day a success. With our numerous years of experience, pleasant personnel, as well as scrumptious options, Christopher's Caribbean Caterers can help make your wedding specifically as you dreamt it would be. We understand simply how vital it is to get every little thing right. Let yourself concentrate on loved ones and leave the organisation to us. We have operated at countless weddings in the past. We are certain that our added flair will thrill your visitors, no matter the occasion.
Wedding events are important for bringing family members and people together. At Christopher's Caribbean Caterers, we understand that nothing brings people together like fantastic food.
Do you desire to spice up your wedding? Why not choose our expert BBQ plans? From sizzling poultry to juicy lamb, or even vegan alternatives, our enthusiastic chefs will certainly charm your visitors. Liven things up by bringing in the specialists. Whether you are planning a quaint 50-person occasion, or a remarkable 500-person party, Christopher's Caribbean Caterers will rise to the occasion. Call us today to book our professional services for your wedding.
CORPORATE CATERING
Conventions, professional conferences, seminars. All of these events are made much better with food and refreshments. No one likes to conduct business on an empty belly, so let our christening catering team make your occasion a success. At Christopher's Caribbean Caterers, we are honoured to have provided for an impressive list of corporate customers, even including Mercedes Benz. No customer is too big or small for us to serve.
You could be planning a corporate occasion after long days of business, with associates from various industries coming together. Our knowledgeable team has the expertise and tools to make certain your event runs smoothly, as well as that your attendees can focus on organisation, not on the rumbling in their stomachs. We are experienced at adapting to the needs of many different kinds of customers and also altering our packages to fit everyone. Either select from our company event bundles or make your own.
Try our delicious selections of packages for your following business occasion. You and your attendees will definitely be pleased.
FUNERALS AND MEMORIALS
Funerals and memorials can be a sensitive occasion for family members. We recognise that, and we are right here to help. Possibly this is the very first time you are organising an occasion like this. It can be challenging harmonising logistics, family member requirements, as well as any personal grief. Christopher's Caribbean Caterers can take care of some of the load by looking after one of the crucial facets of the funeral: the catering.
It can be rejuvenating to connect over soothing food when you are getting together with family and close friends whom you may not have seen in years. We offer a choice of bundles that function for most funerals and memorials, and also we can customise bespoke bundles upon demand. Christopher and the group do more than simply christening catering — we bring a caring, valuable mindset. We wish to make your occasion a bit simpler with our solutions.
CHRISTOPHER'S CARIBBEAN JERK SAUCE
One of our not-so-secret components is our fabulous Jerk sauce. We make it fresh weekly from components like Scotch Bonnet peppers, tomatoes, pimento, chilli, as well as black pepper. You can taste it with our christening catering bundles or acquire it for yourself on the internet to try in your kitchen.
We usually pair the Jerk sauce with our reputable Caribbean recipe, the Jerk chicken. But you can try it on absolutely anything. Use it as a dip for chips as well as skewers, allow it to marinate your meats, or add it to any type of dish that needs extra flavour. Try our outstanding Jerk sauce by buying it online today!
CHRISTENING CATERING AND BBQ
Our christening catering is ideal for BBQ events. Our custom BBQ plans can be adjusted to fit any type of preference as well as budget. Let Christopher's Caribbean Caterers show you the importance of taste. You must recognise it can be a real phenomenon and also an art form if you have ever before seen BBQ at its best. Our competent cooks understand how to entertain an audience as well as provide dishes that taste even better than they look. Your guests will be enthralled and entertained even before they take their initial bite.
Season things up with whole poultries, skewered lamb, tasty pork and also vegan options, roasting over an open flame. Our BBQ alternatives will certainly re-ignite your palate in means you may not have understood possible. We provide sit-down meals, shared plates, fingerstyle buffets, or whatever you require. Remember, all our packages can be customised to your bespoke needs.
There is something truly unique concerning food that is cooked over an open fire. It truly has a means of bringing people together. It is also much better when the food preferences are just as fantastic as ours.
Our home-made Jerk sauce is ideal for spicing up every recipe. When it is time for BBQ, it truly beams. Try some at your following occasion, or buy some online from our internet site to add it into your very own recipes. For christening catering that will leave everyone happy, pick us. You will not be dissatisfied when you choose Cristopher's Caribbean Caterers for your following BBQ event.
CONTACT US FOR CHRISTENING CATERING
Contact us today to schedule our great christening catering. Our experienced personnel are experts at wedding celebrations, company occasions, individual milestones, funeral services, BBQs, and also many alternatives.
With several meal packages on our website, you are most likely to discover something that flawlessly matches your needs. We are also more than happy to provide a complimentary quote over the phone and to go over bespoke menu options if you have unique requests or concepts. There is no need too tiny or too large for us to accommodate. Vegetarian, vegan, halal, kosher alternatives, or whatever you need can all be provided upon demand.
Christopher and the team are excited to serve you. We hope you continue to choose us for years to come!